Check Game Shows Availability
Weddings - Teen Parties - Team Building - Just For Fun
Try a Game Show to Get Your Guests Invigorated
Why do people love a good competition? It's in their nature, of course! Let Twilite's Game Shows create and set the mood for your event. We can run game shows for any number of guests who want to participate.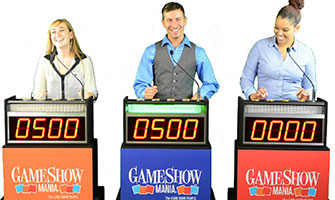 Game Show
Mania
3 Game Podiums (up to 6 available)
Energetic Game Host
PA & light system
Groups of 30-500 people
Prizes

How To Play

After a question is asked and the sound clip starts, if you think you know the answer, press the "lockout" button at your player position. If you are the first to push the button, your indicator lamp in front will illuminate. Give your answer by speaking loud and clear into the microphone. If the first person to "lockout" does not give the correct answer, another contestant will have the opportunity to answer after he/she locks out.. Good Luck

Read More

With zany sound effects, real digital scoring and a lightning fast electronic lockout system (first button pressed gets to guess the answer), our Game Show Mania is a fun, live trivia game experience. The trivia topics are endless, and even customizable to your company, team, group or school. Looks and plays like a popular TV quiz show but this is outrageously more entertaining.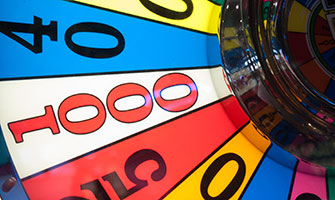 Wheel of Play
3 players or teams
Energetic Game Host
PA & Screen System
Groups of 10 - 100 People
Prizes
~
~
~

Read More

Based on the classic Wheel of Furtune, now your team can get in on the action. Spin the wheel, guess the letters, and solve the phrase – oh and did we mention, have a great time building your team and entertaining everyone in the audience? Prizes are always included but it's the experience that will last forever in your group's minds. This is our newest game show at Twilite Music and we are excited to bring all the action to your next event!
FabulousFeud
Equipment for 2 teams
Energetic Game Host
PA & Screen System
Groups of 15 - 300 People
Prizes

How To Play

Divide your groups into players of 5 for each side.(Two teams play off against each other, the best way to determine winning teams is to do a round robin style). Please appoint a volunteer to keep track of the winning teams for the red robin style.
One member of each team faces the other in a face-off as the Host reads the question off the game board.
The team that buzzed in with the correct answer receives control of the board and has the option of playing or passing control to the other team.
The team that has the control tries to reveal all of the correct answers to the question before receiving three strikes.
If the team receives three strikes without clearing the board, control is passed to the other team.
The team that now has the control is able to give one answer in the hopes that it is found on the board. – If it is, points are added to the team's score. – If not, the other team gets the points.
Points are collected as each team finds its answers to the question on the board.
Continue the game repeating steps two through seven.
Each team tries to collect the most points. The team with the most points wins the game! (This will be displayed on the board)

Read More

Name Something amusing to do at your extraordinary occasion? Number one answer IS – Twilite Music's available Fabulous Feud . With a couple of differences, it is much the same as the TV show played in groups. We can include additional difficulties and questions for additional points, we can even include singing and a dance-off. Everything relies upon what kind of vitality level you need. Our game show hosts will keep the show silly and streaming easily. We can likewise tweak your questions and find the 50 top answers from your employees, family, and companions.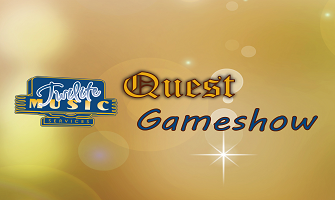 Quest
Gameshow
10 teams
Energetic Game Host
PA System
Groups Up to 300 People
Prizes

How To Play

Pick Team Captains
The Host instructs the captains to run out and gather a particular number of players for their teams.
The Host then instructs a member or members of the team to bring him a certain requested item. The first team to arrive with the requested item gets the most points
It starts off innocently enough, with requests for items like "a tie" or "a sock with a hole in it". However, each task gets a little more complicated.
It quickly turns more bawdy: a man wearing lipstick or someone with their pants on backward.
By the end, it is barely controlled chaos, with one perhaps one male member of the group wearing a bra and poorly applied makeup declaring his name was Joan of Arc.

Read More

Twilite Music Quest gameshow has up to 10 different interactive relay races. Your guests will be screaming at the top of their lungs with excitement! It's the Quest Gameshow, the adults-only scavenger hunt that ranks as a can't-miss show.
Weddings - Teen Parties - Team Building - Just For Fun
Pick Any Occasion - A Game Show Will Only Make It Better
Game Shows for Every Event - Weddings, Teen Parties, Team Building Events or Just For the Heck of It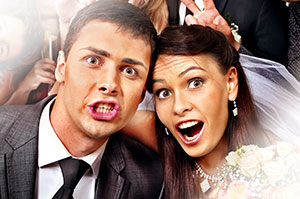 Create a Scene With a Game Show at Your Wedding
Weddings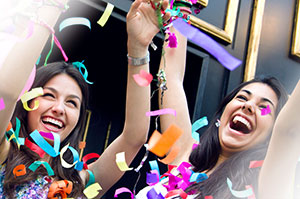 Ratchet Up Teen Party Craziness With a Game Show
Kids and Schools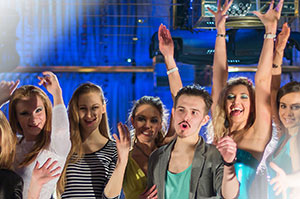 Build Tighter Team Bonds with Game Show Competitions
Team Building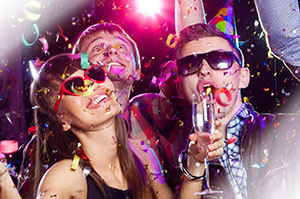 Game Shows ...
Just
Because
...or Just For Fun
---
Game Show Mania
Pit the Bride's side against the Groom's side or Bridesmaids against Groomsmen for a hilarious, friendly competition to prove who knows the most useless bits of trivia.
Fabulous Feud
Family Feud is perfect for a wedding game! Have the crazy side of the Bride's family compete against the uptight side of the Groom's family, and entertain your guests with a real feud.
Wheel of Play
A Wheel of Fortune knock-off that everyone knows how to play, invigorate your guests by whipping up a fast-paced, fun game that will have everyone laughing hysterically.
Game Show Mania
Jocks against Cheerleaders, or just boys against girls, find out who's learned the most trivial trivia answers.
Fabulous Feud
They don't have to be a family to play this Fabulous Feud. Just be ready to laugh hysterically at some of the answers.
Wheel of Play
Everyone loves this Wheel of Fortune style game, and teens are no different. Let them plug away, and send their audience into fits of laughter.
Game Show Mania
Have your IT team pitted against your finance department to see who has the largest store of unnecessary trivia answers.
Fabulous Feud
Nothing screams feud more than the sales team squaring off against the marketing team. Let them battle in out Family Feud style.
Wheel of Play
Have management compete against administrative staff in a Wheel of Fortune competition and see who whips whom.
Game Show Mania
Perfect for schools, clubs, or other organizations who need a fun competition, Game Show Mania uncovers who knows the answers to crazy trivia questions.
Fabulous Feud
When you want to bring a light side to your entertainment offering, set up a game of Fabulous Feud. Families against families, or teams against teams, however you stack it, it's crazy fun.
Wheel of Play
This Wheel of Fortune style game will keep any audience engaged and laughing. It's sure to bring out the best of anyone, much to the delight of those watching.
Enhancing Entertainment For Any Occasion
The Twilite Difference
When You Want Something Different From the Rest

Early Setup
We get there early to make sure everything is set up and ready to go before the first guest arrives.

Consultation
Our consultations are free, and we make sure your game show scenario is exactly what you want.

Amazing Hosts
Our game show hosts have extensive experience in getting the crowd fired up and ready to play; bringing out the best of anyone.

Experience
We have extensive experience in running game shows that get your entire audience involved and energized.

Backup Gear
We guarantee that your event will run as planned. That's why we have backup gear for every event we attend. Just in case.

All About You
We know how to center our game show contests around the purpose of your event. Let us create a game show to remember.
Weddings - Teen Parties - Team Building - Just For Fun
Just a Few Answers to Some Frequently Asked Questions
1
In the time frame we have, how many games can be accomplished?
Each game is approximately 15 minutes long, and will include a 5 min break between each game.
2
What is the best number of people per team?
We have 47 people attending. Each game we suggest 5 per team.
3
What is the best way to split up teams? We have people coming from across Alberta across many different departments.
A table becomes a team which is a family so 5 of them ( as some may just want to watch) this helps different regions compete against each other.
4
Should it be organized into a competition? Points based? Or a round-robin tournament style?
The winner from each game will have the score on the screen and suggest that you have a volunteer be the score keeper for the evening so this becomes like the round robin style.
Experienced - Dedicated - Professional
Game Show Successes by the Numbers
Last Year We Did
Game Shows
---
We've got the experience to make sure your
wedding photo booth experience is perfect.
We Operate
Game Show Hosts
---
With an ample supply of game show hosts,
we bring life to any party or gathering.
Just be prepared to laugh.
Around For
Years
---
We were one of the first in Alberta
to offer game show options for parties,
weddings, events, and more.